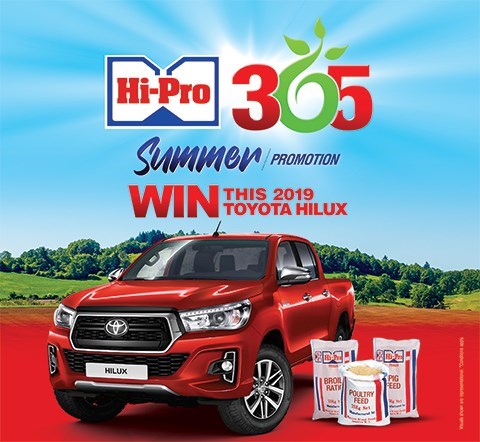 Christmas Countdown 2019 Terms
GENERAL INFORMATION
Entrants of all ages can enter the promotion.
The public will be informed about the rules and conditions of the promotion via Press, Radio, TVC and full rules on hipro.mobi.
Prizes are non-transferable. Once claimed, winners are entitled to do as they wish with their prizes.
Proof of purchase codes can only be used once.
HOW TO ENTER
A proof of purchase card will be affixed to or inside each package of feed, fertiliser, pharmaceuticals, chemical, pet products, baby chicks and tools distributed by Hi-Pro.
Upon purchase, text the unique code provided on the card to 552-4748 or enter it at hipro.mobi (using your name and telephone number).
Entrants will be required to produce the proof of purchase card to claim their prize.
Purchasers of all 25kg Hi-Pro Feed, as well as specially marked Hi-Pro distributed Chemicals, Fertilizers, Tools, Chicks, Pet products and Pharmaceutical products will qualify for entry in the promotion.
RULES OF THE PROMOTION
Winners will be required to correctly recite proof of purchase code when called.
Winners agree to allow use of their names and photographs for publicity purposes at no cost. Failing this, they forfeit their prize.
Each text entry gives Hi-Pro the right to contact sender regarding future promotions and offers.
After sixty (60) days from notification, prizes will also be forfeited if not collected and will remain the property of Hi-Pro.
Winners must carry a valid government issued I.D. (Passport, Driver's License and National I.D.) or School ID (Photo ID) along with the winning proof of purchase card to claim their prize.
Product prizes cannot be redeemed for cash.
Standard text rates apply. Persons can enter as many times as they wish.
Employees, contractors and contracted workers of Jamaica Broilers Group and OGM Integrated Communications Limited and their immediate family members (spouses/children/siblings) are not eligible to enter.
WEEKLY PRIZES
2 Winners of a 1,000 Rhino Water Tank
1 Winner of $50,000 SINGER Voucher
50 Winners of 1 Bag of Hi-Pro Feed
1,000 Winners of $100 instant Digicel Credit
DRAW DATES
OCT. 22, 28, 2019
NOV. 4, 11, 18, 25, 2019.
DEC. 2, 9, 16, 2019.